In light of the Olympics taking place in Canada, I thought today's post was definitely apropos! Virtual meet-ups and friendships are one of the great benefits of social media. Communities are being created in the online world and relationships are being extended into the real world. I know for myself—and many of my friends—that new friendships have begun on Facebook that have extended into the real world. Same goes for Twitter. Tweet-ups are popping up all over—where those on Twitter are getting together with their followers and fellow tweeters in real life. ING Direct Canada's online bank has had a few "tweet-up" meet ups!

For businesses, this is one of the ways to facilitate using social media as a way to connect and engage with their customers online and create ways to get them to go to their bricks and mortar businesses offline. Many have leveraged coupons and free products via their social media pages on Facebook and Twitter—asking their community to print off coupons for these offers and bring them to their retail stores. I wrote an article about Starbucks' social media success the other day. They have been very successful leveraging this online and offline relationship with their customers.
Sparkpeople.com is a free social network that supports its users in their weight loss journey and relies on its users to sustain the community and the site. With obesity, health and wellness being at the forefront for everyone—First Lady Michelle Obama had chosen this as one of her key mandates for this year—Sparkpeople.com is a great universal cost free tool and a way for many to get support, encouragement and education to stay on track and attain success with meeting their weight loss and fitness goals. CNN contributor and writer Ashley Fantz has written a great article about the value and success that many have found by participating in the Sparkpeople.com community.
The excitement of knowing that there is a free place where you can receive support, education and build relationships that extend beyond the virtual borders into real life, adds a dimension not just to businesses but for anyone looking for ways to connect and engage with others—who have like minded interests, passions and goals. Amazing!
Best Nicole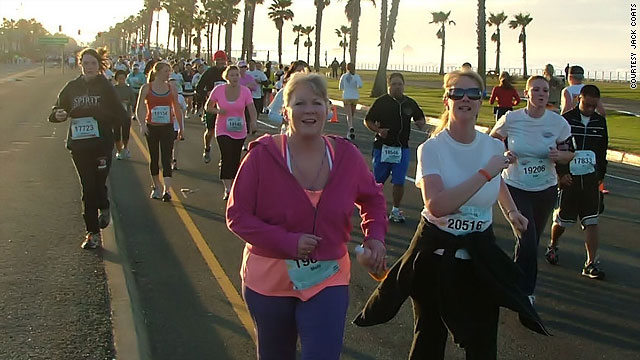 Spark friends Rebecca Coats and Eve Rasmussen run in the Surf City marathon in Huntington Beach, California, February 7
CNN) — Becki Coats was embarrassed, so embarrassed that she didn't want to show pictures of herself with her new grandchild.
"I couldn't stand thinking about people saying, 'Oh, my, what happened to you,'" she said. "Well, I'd become a fat, cuddly grandmother who cannot play with her own grandbaby, that's what."
Coats weighed 230 pounds. At 49, she was too heavy — and sidelined with herniated disks and a bum knee — to do her job as a firefighter, so her bosses gave her a desk job. But her physical pain was no match for the anguish to come when over the next year and a half her teenage son died in a car wreck, her mother died and she lost a friend to cancer.
"It was just constant bad news. I was told that if I didn't lose weight, I was going to lose my job entirely," she said.
Required to attend a work fitness program, Coats learned about Sparkpeople.com, a free fitness social networking site that, like Facebook, relies on its users to sustain it. They provide basic biographical information and weight loss goals and are automatically transferred to Spark Teams, small chat groups bound by similar shape-up goals.
The ad-supported site lets users build their own Sparkpages — which can be linked to Facebook — and have access to the lively written Sparkblog, which offers advice from certified trainers, the latest health articles and studies and recipes.
When Coats logged on she was connected with seven other women in a "40-something with 25 to 49 pounds to lose" message board. She quickly felt a kinship with these women she'd never met.
"They were talking about life — jobs, husbands, their kids, traveling, getting to know each other like they were your girlfriends sitting at your kitchen table having coffee," she said. "It's not like you sign on and it's all about 'Drop that weight!'
"Here were women who are going to encourage me to get off my butt but weren't going to judge me if I didn't look like a swimsuit model in six months," she said.
Coats and several of the other women in her chat group met for the first time earlier this month to run the Surf City Marathon in Huntington Beach, California. Each ran a different distance, and they met at the finish line.
"It meant a lot to us to do this together, something that each of us never considered that we'd ever do," she said.
Spark was launched 10 years ago by a wealthy early eBay investor. It is among the best known secrets in the weight-loss world. According to Comscore, it's the most visited fitness site with 7 million users (162 million page views in January), but Spark has taken a low-key, word-of-mouth approach compared to its big bucks advertising competitors like Weight Watchers.
"Spark is built on a truth that people love feeling like they're needed on a team," said founder Chris Downie who, along with two business partners, sold his late 1990s online auction site to eBay for a reported $72 million and started Spark.
Downie spends much of his day in his Silicon Valley home messaging back and forth with Spark users or reading what people are talking about in the Sparkcafe. (On February 3, among the 798,784 cafe chatters, nearly 10,000 people were involved in a "Should you eat breakfast?" thread.)
"I always had shyness and anxiety as a kid, and I wanted to create something that would allow users to remain comfortably anonymous if they wanted but still connect," Downie said.
"The key to me is that I felt supported and not judged," said Jennifer Lang, an upstate New York psychotherapist who is part of the group. After having her fourth child at 41, Lang weighed 228 pounds.
"I had not exercised in 20 years," she said. "Really. In 20 years. It just wasn't a part of my life until it had to become my life or else."
She found Spark while surfing the Internet and joined other Spark groups, including the pointedly named "Mothers with 2-year-olds." She faithfully filled in her nutrition tracker every day, a function that not only automates calories but tells you when you type in "Dannon yogurt" what the heck's really in that container and whether it's really good for you. It also provides ideas for substitute meals. Spark's software won't allow someone to program a diet less than 1,200 calories a day.
A year later, Lang is 50 pounds lighter.
Stories like Lang's and Coats' are ubiquitous on Spark. CNN.com signed on to the site and messaged with several users who said they'd shed 5 to 100 pounds.
Many said they didn't even mind being sent the flurry of Spark e-mails they say didn't strike them as spam. A few examples: "Where to find the nearest running trail near your home" and "5 Ways to Avoid Hitting the Snooze." A hip and glute stretch video was short and direct, and another e-mail containing a low-cal recipe did not, like so many in its genre, produce food that tastes like cardboard.
As Lang got healthier, Tammy Rhones signed onto the women's chat group as "Marathon Mom," even though the 49-year-old's problems with weight and a clubbed foot sidelined her from most sports over the past few years.
"I never got past being that little girl who thought she couldn't run," she said, describing how she would watch Ironman competitions with amazement at the monster triathlon. A trainer told her about Sparkpeople.
Shortly after registering, Spark "woggers" (runners who walk) began sending her instant messages, motivating her to join a real-life running club to work on her foot. Months later, in a burst of extra motivation, Rhones completed a 2.4 mile ocean swimming competition and 150-mile bike ride. She also started competing in Spark's online 5K and 10K races where users post their real-life mileage. It might take a week, but in the virtual races, the first one to complete the total distance wins.
"I've always had a competitive side, but Spark has given me the chance to appreciate my successes as opposed to comparing myself to everyone else," Rhones said after running the half portion of the Surf City marathon. "I don't need to look at a magazine anymore and say, 'Oh I need to strive for that.' I'm a size 12, not a size 6, and I'm happy with that, that's OK."